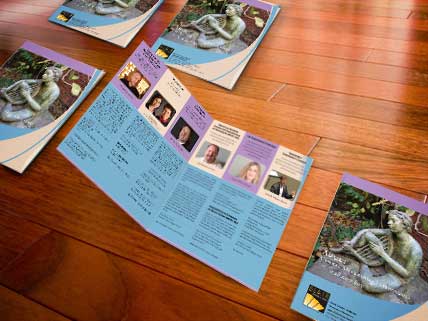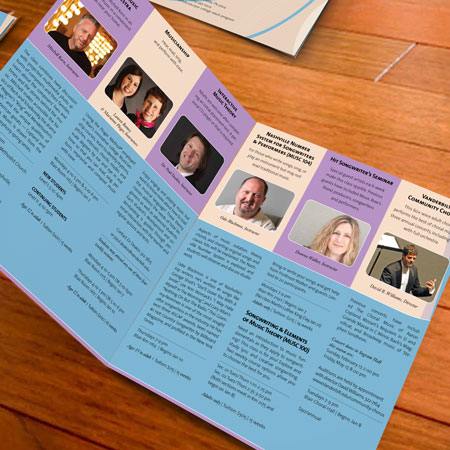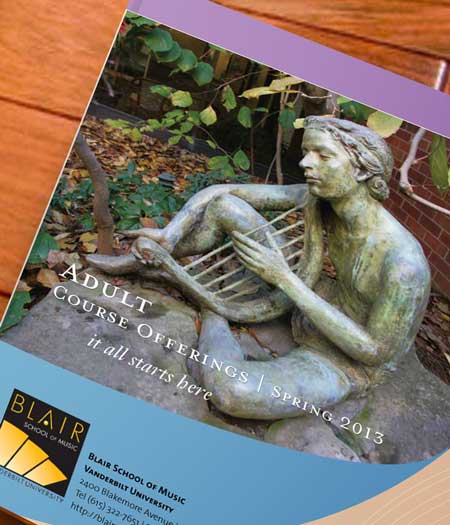 Brochure Design:
Vanderbilt's Blair School of Music
Client Story:
Vanderbilt University's Blair School of Music is one of the most prestigious music schools in the country. They have a public program chock-full of interesting classes, taught by some of the finest professional musicians in the region, many of them members of the Nashville Symphony.
The school contacted us about upgrading their  8.5″x11″ mailer (at the time printed on colored paper with black ink) and developing a template that would be updated with new colors and information on a quarterly basis.
Why We Love This Project
Blair gave us free creative reign and entrusted us with making marketing-smart decisions. We opted to go with a single-fold, 8 panel self-mailer with full-bleed on semi-gloss. The colors were updated each quarter to correlate with the time of year, giving it a fresh look for each season. A PDF mailer was created from the original and emailed to their mailing list as well.
Our Role
Art Direction, Photo Imaging and Retouching, Layout and Design, Print Management and Delivery
Adobe Photoshop
Adobe InDesign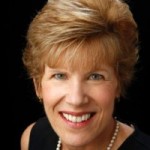 The folks at Saxon Creative are deeply knowledgeable about creating educational arts brochures and had excellent suggestions. Their work is creative, on time and expertly done. It is a pleasure to work with them.
Pam Schneller, Associate Dean
Blair School of Music at Vanderbilt University